Mens Vests Waistcoats Sale
Three men's tailor made waistcoats and two handmade neckties put on sale by Ravi's tailor. The two neckties that we offer from our classic collection range can display multiple patterns, colors and designs, like micro polka dots, chalk stripes, multi colored, and many more. Three made to measure vests for men that we offer in this deal can be slim or comfortable, with multiple features like Ainsley collars, double piped pockets, pressed notch lapels, welted pockets, slanted pockets, tapered waistband, angled bottoms and many other features. You can also make of choice between patterns like, houndstooth tweed, wide stripes, corded stripes, beaded and pearl stripes, pick stitch stripes, and many more. We also give the option to customize the men's waistcoats in fabrics likes wools, cottons, silks and many more available options in the classic collection range. Also, the men's waistcoats that we offer can be denims with patterns like self stripes pinpoint, and so on. The fabrics that you choose can be stretchable, wrinkle proof and crease free as well. The neckties are blissful accessories that can complete your formal look, and look equally stunning with men's custom made suits. The men's waistcoats and neckties also look classy with business formals like men's handmade dress shirts and men's tailor made denim jeans.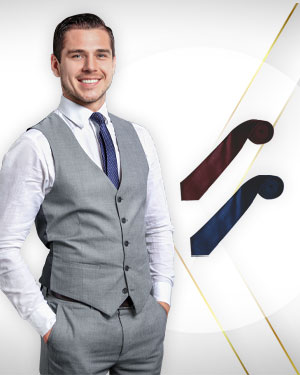 Three waistcoats and 2 Neckties - perfect for the Office from our Classic Collections
Regular Price: US$405
Now Only US$364.5!
If you have already added profiles to your account which are not showing,
please type in any email address associated with that account and click on
Try Again.