Deals On Womens Skirt Suits
This attractive ensemble by my custom tailor puts on sale two stunning tailor made skirt suits for women with two custom made scarfs. The skirt suits from our deluxe collection range of garments comprise of women's handmade skirts and women's custom made jackets. The made to measure suit jackets for women can be hip length, ultra slim and waist length with open fronts. You can choose between different features and patterns like tapered waistband with fabric belt, elastic waistband, open fronts, matching front close buttons, hand molded shoulders, padded shoulders, shawl collars, Hawaii collars, turned up sleeves cuffs, triangular collars, buttons on sleeves cuffs, embroidered sleeves, subtle pinstripes, lavender pinstripes, subtle micro stripes, invisible stripes, tone on tone stripes, and many other options. The women's custom made suit skirts can range from pencil skirts, to knee length skirts, A line skirts, calf length skirts, slim cut skirts, and many more. The women's made to made skirts that we offer as a part of this ensemble can have multiple patterns and options like, alternate bold and subtle stripes, cross checks, inch stripes, muted stripes, two line pin stripes, Gregorian stripes, canterbury stripes, digital morse pattern, slanted pockets, twisted center vent, full pleats, reverse double pleats, flat fronts, concealed back or side zipper, and many other options. The scarfs that we offer can be customized in various colors and patterns. You can customize your garments with wools, cottons, silks, and other fabrics that can be also be made washable and wrinkle free.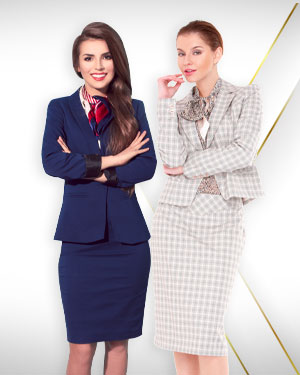 Summer Urban Image - 2 Skirt Suits and 2 Silk Scarf from our Deluxe Collections
Regular Price: US$1390
Now Only US$1042.5!
If you have already added profiles to your account which are not showing,
please type in any email address associated with that account and click on
Try Again.